Harry Phillip Davis Removed From Templar Church
Removal originally posted July 15th, 2018 – Updated Oct. 10th, 2018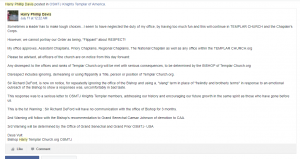 With a heavy heart, on July 15th, members of the Board of Templar Church had to remove a former clergy member, Harry Phillip Davis, from Templar Church and from the USA Grand Priory due to strange and incoherent behavior including unwarranted verbal attacks on our members like the post from Harry you can read by clicking on the image to the left.  When Harry was asked the reasons for that post on the left, he explained that he felt that Pastor Richard was making fun of him by posting the German word "Gesundheit" below a post that Harry had written in German.  Pastor Richard explained that it was the only word he knew in German and had meant no harm and that he felt Harry had strongly over-reacted to his one-word comment.
With the newest member present, Templar Church Board convened at 6pm Wednesday, October 10th, 2018, and voted to confirm the removal of Harry.  The Board cited Chapter #6, section 10f of the Bylaws for it's reason for this removal:  "f. The loss of confidence in the clergy member by the Church Board."
You can view his removal below: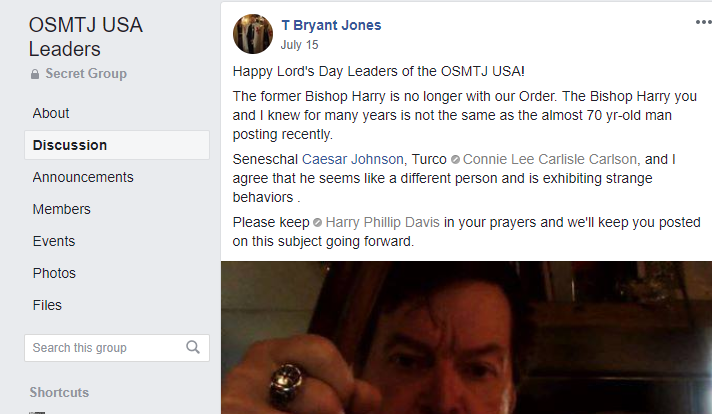 Templar Church is a legal entity incorporated in the state of New Hampshire.  It's incorporation document and it's bylaws establish that Templar Church is governed solely by it's Church Board who exercise all authority over the removal of clergy (including the removal of Harry Phillp Davis) as you can read in Chapter #4 and Chapter #6 of our bylaws here: http://TemplarChurch.org/bylaws/
From Chapter #4: 
"4. The Chairman of the Church Board shall have authority to:
a. Extend a Letter of Call or terminate a Letter of Call to any clergy member (removal) of Templar Church from the lowest Priest to it's Bishop. (See Chapter 7)"
His posts contained lewd references to anatomy as well as profanity.  You might have seen his public and unwarranted attacks on Pastor Richard, Connie, Caesar, and myself. Many of you watched his bizarre videos he was uploading to his Facebook profile.  You can watch one such example if you copy and paste the following web address into your browser:  https://www.facebook.com/guerrilla.flyfishing/videos/2118861258156450/
On July 14th we received a complaint from a female married police officer that Harry had been making unwanted advances via Facebook.  I called Harry to get his side of this and I was very concerned as he told me there was a warrant out for him in his city.  On his Facebook page he posted about being questioned (and in parentheses he writes "Arrest") by the Wenatchee City police department 3 times and followed up with a comment that police had questioned him about many things including sleeping in his car and if he was "ok" as you can see from the screenshot from Harry's Facebook page from August 3rd, 2018: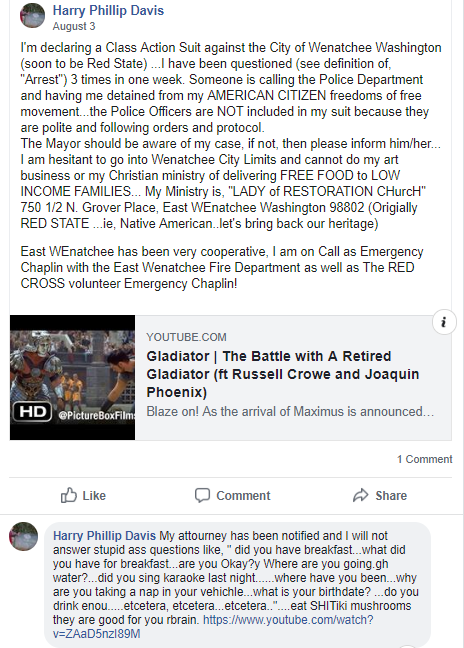 On July 10th he made a post on his Facebook page asking for the services of a Bail Bondsman and saying he was a former "Jail Bird" (A "Bail Bondsman" puts up the bond to get you released from prison) as you can see from the below screenshot from his Facebook page:

Harry was making posts attacking the police (We hold law enforcement in high regard and condemn his statement) you can see from Harry's Facebook post on July 14th:.

Harry made many posts that were strange and incoherent like this one describing being homeless and how he almost left town to follow a gypsy woman: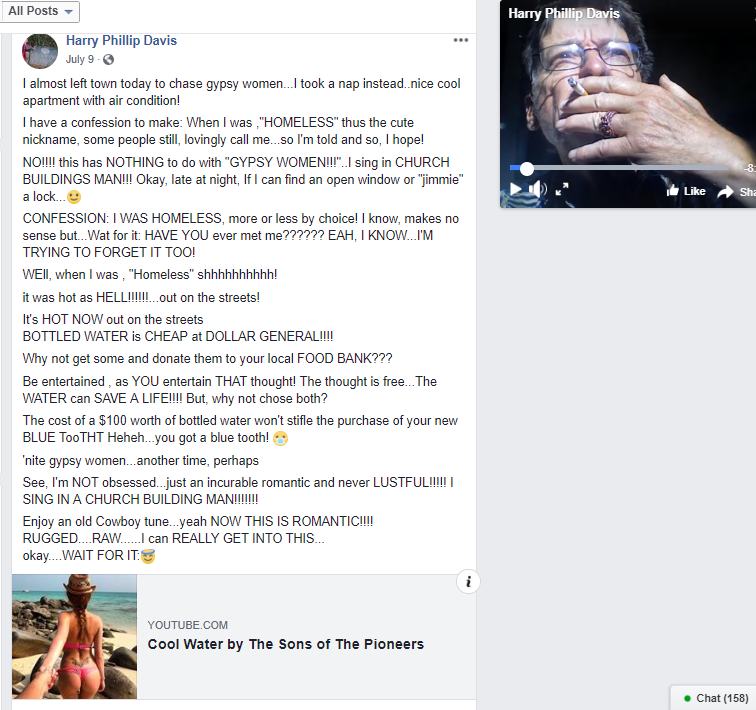 On July 20th, Harry challenged the readers of his Facebook page to this contest: "All Who Answer Truthfully Drunk Have Already Won themselves Prizes." His only stipulation is that they had to write their answers in the language of "Elvish," not much else makes sense from that post below: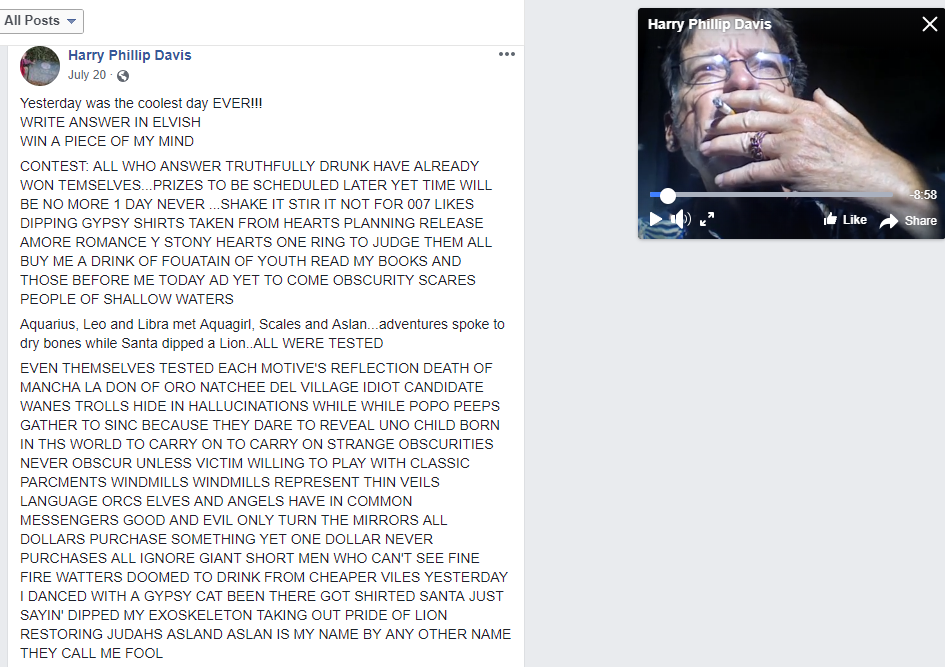 Harry was making many other nonsensical posts in our forums and to his profile page as you can view here: https://www.facebook.com/guerrilla.flyfishing
As of Nov. 20th, '18, Harry is still asking for donations for his "Ministry" while openly swearing at his audience as seen in the last lines of his post below: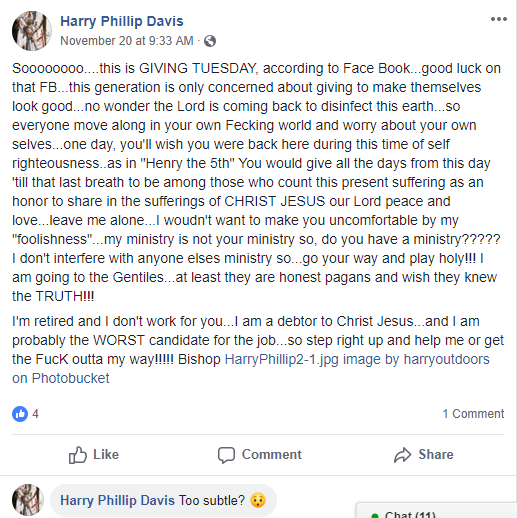 Please keep Harry in your prayers.
Templar Church Board